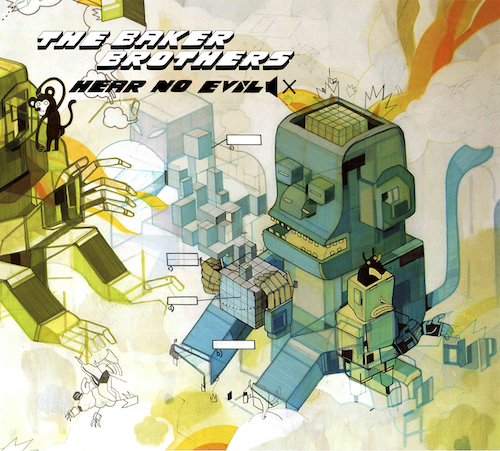 The Baker Brothers are back with a new release for 2014!
The Baker Brothers are excited to announce that they will release a new album, HEAR NO EVIL in 2014 on their own new label- Fish Legs Records!.
Our latest album "Hear No Evil" has been a long time coming. To us, it feels like an eternity since "Time To Testify" was released. During the lifetime that has been the last two and a half years, so many things have happened and changed that it has been difficult to keep track and take stock of it all. Hear No Evil has come from a totally different place than our last effort. This album feels to us altogether more solid, from a band more comfortable in our own skin after growing and evolving together, both musically and as people. There are so many experiences that we had to draw on for the making of this, tumultuous family times, children, financial upheavals, changing domestic environments and the general dynamic nature of the times we are living in!
Writing started nearly two years ago and as usual, Chris outdid himself with the writing and inspiration. His vision and driving force kept us on track even when things looked to be at their worst! The songs began to take shape and we recorded a few at a time at Bella Union Studios in Shoreditch and kept writing and recording over the next year or so. There were big breaks in our rhythm, Geoff and Ted both having new additions to their families and Chris changing scene from the city to the (very!) quiet countryside, but eventually it all came together.
They say that recording a song is like capturing a moment in time and "Hear No Evil" to us is like a documentary of the last couple of years of ups and downs in our lives. The songs are honest and we very much hope that you enjoy them!
Also look out for a remix EP from our friends at Ism Records, it's gonna be jumpin!